Road Signs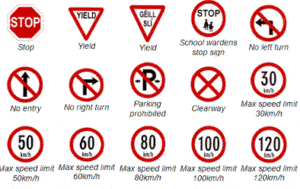 Road signs and road markings are in place to keep all road users as safe as possible. You must know what road signs and road markings mean before you attempt to drive on a public road.  You must know and understand these signs and respond correctly when you see the on the road. Signs and road markings are divided into three broad categories:
Regulatory
Warning
Information
Regulatory Signs
These indicate what you must do under the road traffic law, so all road users must obey them. Regulatory Signs are divided into a number of groups:
Upright Signs
Road Markings
Traffic Lights
The diagram above displays some upright signs. They can be circular, triangular, rectangular or octagonal. Usually, the signs would be on a white background with a red border and black letters, symbols or numbers or on a blue background with white symbols or letters.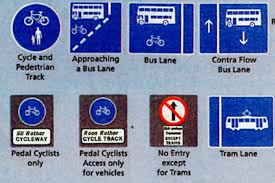 Warning Signs
These signs warn you of hazards ahead, such as roundabouts, crossroads, dangerous bends or anything else that would call on you to drive more carefully. You should always take special care when you see a warning sign. If you fail to observe these signs, you could create a hazard.
All warning signs have the same format.
are diamond or rectangular in shape;
have a yellow and black background with a black border
use a black symbol to show the hazard ahead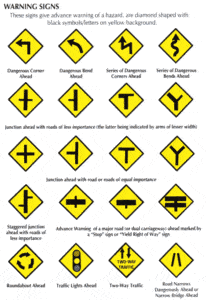 Information Signs
As their name suggests, these signs give information about directions and distances from your current location. There are three format for information signs.
blue signs with white letters for motorways
green signs with white letters, which are on national roads
white signs with black letters, which are on local and regional roads.