Automatic Driving Lessons in North Dublin – Hand Signals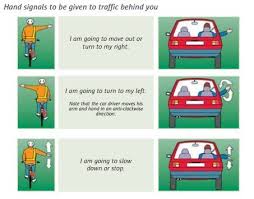 Hand signals are another aspect of the driving test. Learning these is important as you want to give yourself the best possible chance when you are driving. Not knowing your hand signals will get you 1 grade 2 fault. ( Blue section on the marking sheet ) This one mark could be the difference in you passing your test. Once learned, they are easy to remember as long as you keep refreshing in your head.
On the diagram above, you see the same signal for both car drivers and cyclists. As the driver, you should carefully bring your right hand and arm out of the car window, holding your arm straight out with thumb facing up. Always check your mirrors before using hand signals as unexpected vehicles coming up from behind could cause serious injury if they were to connect with your arm.
The second signal on the diagram is turning left. Cyclists raise their left arm to turn left but as drivers, this would not be effective. Instead, we drivers bring our right arm out the window and we rotate our hand anti-clockwise. This warns other road users from behind that we intend on turning left.
The third signal on our diagram is slowing down or stopping. Cyclists and drivers use the same signal. We again bring our right arm out of our right window, palm facing down and slowly raise our hand up and down in a gentle motion. This warns other road users from behind that we intend on slowing or stopping.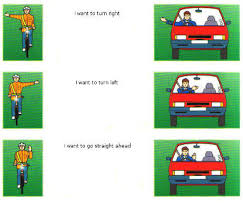 The last 3 diagrams we covered are to warn the other road users behind us our intension. The next 3 diagrams are to show other road users in front of us our intension. The first diagram displays turning right. Turning right is the same from behind as it is from the front. Simply bring your right arm out the window and hold your arm out straight with your thumb pointing up.
The second diagram is for turning left. As drivers, we bring our right arm across our chest and point out to the left with our thumb pointing up. This way is more effective to show other road users in front of us our intention.
The third diagram shows us the hand signal for continuing straight ahead. This simply is raising your left hand up, with your fingers pointing up and showing the palm of your hand.
These are some basic hand signals that will be asked on your driving test. Hand signals would normally be used if you knew you had an indicator bulb not functioning or your brake lights were not working. Always remember to check your mirrors before you bring your arm outside of the vehicle as it could result in serious injury.