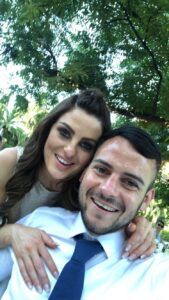 Hi, my name is Anthony Doran and my partner's name is Joanna Torphy. Together we run ADM Driving School. I have been driving trucks for various companies since 2012. I always had a passion for driving since I was a young boy. A few years ago I decided to upskill and I became a truck driving instructor. I have learned a lot from my many years on the road and this really helps me get the most out of my pupils.
My partner Joanna is a trainee psychotherapist and a full-time driving instructor. The coaching-style of instructing she uses is extremely effective and she gets the most out of her pupils. She is really kind and is extremely patient and always gets great results.
Our way of teaching people to drive is a little different from traditional methods. The old method of telling pupils what to do and when is not very effective for developing good driving skills for life. It is effective for passing the test but doesn't create an understanding of why you are doing what you're doing. Our method coaches you through asking you what you think and guiding you to the answers rather than telling you. Studies have shown this is a far superior way to learn as you understand the principles and will keep your good driving habits long after your test.