Automatic Driving Lessons In North Dublin The Theory Test Book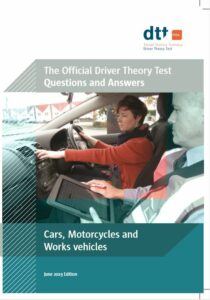 Booking your Theory Test is the first step in your driving journey. You can book your Theory Test on dtt.ie or call 1890 606 106 and follow the directions. Usually, when you are booking your exam you will need a credit/debit card and your PPS number. There is a 45 euro fee for the exam.
Once you have your date. it is very important that you study the Official Driver Theory Test book. This book has all the answers you will need to pass your test with ease. The Official Driver Theory Test book is separated into different segments.
First, when you open your book you will be informed on how the questions are asked and they show you a few mock questions. After these questions, you will start off slow with some simple road signs such as:

        "What does this sign mean?"
There are many road signs on Irish roads and knowing them is very important so that you know and obey the rules on each particular road.
After you complete all the road signs, you will be introduced to hand signals. Understanding hand signals allow you to read what other road users intend on doing. These other road users could be anyone from cyclists, An Gardai, construction sites where the traffic measures are in place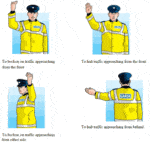 The above diagram shows 4 hand signals a Garda could possibly use. Learning these now is important as hand signals are asked on the day of your test. Practice them with a family member and get used to using them. Hand signals can warn other road users of your intension if you ever have a faulty indicator or brake lights.
After these hand signals the book goes into road markings. Road markings are usually indications of the rules on that particular road at the point in the road you are at. Road markings range from signal white line in the middle of the road to directional arrows at roundabouts. Knowing your road markings is vital in keeping you safe on Irish roads.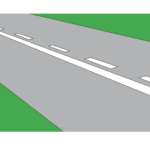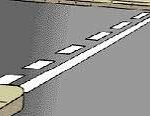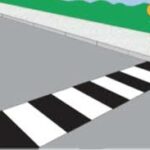 In the diagram above, there are 3 types of road marking. Most road markings all mean something different and knowing and obeying them keeps you safe.
When you are studying the Theory Test book, study these images and get to know them as they are a big piece of the Theory Test. The book after all these diagrams goes into more detailed questions. The questions range from speed limits on particular roads to regulations regarding pedestrians.
When you get past these questions, you now enter the stage of "alert driving and consideration for other road users" At this stage of the book you will be shown a diagram of possible scenarios where you are driving a car and looking through your windscreen. The scenarios could be asking you "who has right of way?" or "what should you be aware of here?" Knowing your road signs helps here as in the diagram you could notice a yield sign which could help you answer the question.
Knowing your road signs and learning the section on "alert driving and consideration for other road users" is a big part of The Theory Test. Knowing all these also puts you in a great position for your driving lessons and you will be aware of the rules on the road as you drive on them.
Learn the book in sections and read some every day. Take your time, study and you will pass the test with ease.